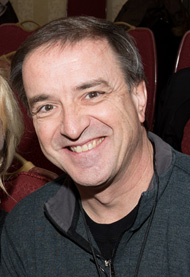 Advisor
After completing a degree in Zoology from The University of Toronto in 1981, Scott enrolled at the Canadian Memorial Chiropractic College (CMCC) graduating in 1985. His wife Deb graduated from the Chiropractic Assistant program at CMCC that same year and they had the wonderful privilege of working together until their first child was born.
Anxious to start practice, Scott signed a ten year lease before writing board exams and in June of 1985 opened Martin Chiropractic in Oshawa, Ontario, where the first patient knocked on the door while the paint was still wet! In 1989 Dr. Greg Martin (Scott's brother) joined the office and together they have grown a large and vibrant family based practice, providing principled Chiropractic care to their community.
There are many facets required to be successful in life and practice and Scott's expertise is teaching. Striving to communicate effectively in a way that is not only educational but transformational is a constant pursuit, whether speaking with friends, family, patients or colleagues, motivating them to be leaders in their circles of influence.
Scott & Deb were married in 1982 and have three children. They are very active in teaching and leadership roles in their local church as well as para-church ministries.
Dr. Scott's Why